Dumb is as dumb does, not as dumb could have been.
The dumb lamb is exactly what God created him to be. And I tend to think that God created the lamb, as-is, in order to illustrate to us just how we look! God characterizes us Christians as lambs, and the Devil as a roaring lion – seeking to devour us.
Still thinking you are invincible?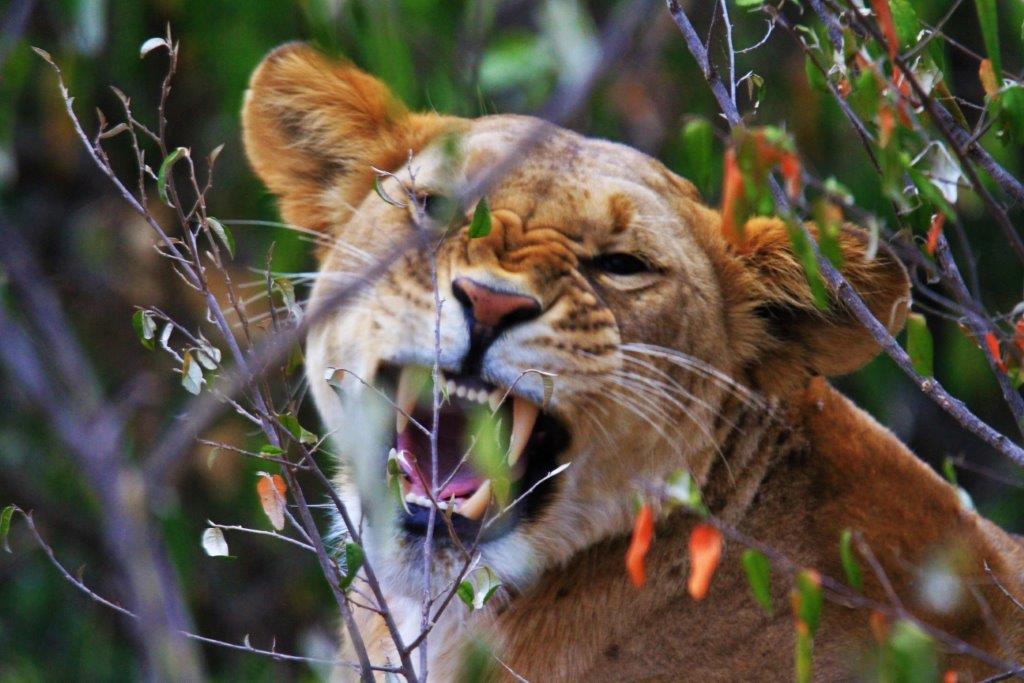 What do we learn from Scripture?  It teaches us that we are totally defenseless without our Shepherd nearby. If we wander away from the flock, we are likely to suffer, be devoured.
And then – Scripture teaches us to "put on the armor of God" so that we will be able to stand against the Evil One.
"Finally, be strong in the Lord and in the strength of His might. Put on the full armor of God, so that you will be able to stand firm against the schemes of the devil. For our struggle is not against flesh and blood, but against the rulers, against the powers, against the world forces of this darkness, against the spiritual forces of wickedness in the heavenly places…."  – Ephesians 6:10-18
Again – the truth of our situation as His created creatures, is that, without careful preparation and vigilance, we may fall prey to the Enemy.
This is not a fear thing
Now this is not a fear thing. God has resources for us to overcome the Enemy. We need not fear, though we be weak. Nowhere does Scripture tell us to be afraid of the Enemy. Actually, we are told to fear not.
14 But even if you should suffer
for the sake of righteousness
[though it is not certain that you will],
you are still blessed
[happy,
to be admired and
favored by God].
Do not be afraid of
their intimidating threats,
nor be troubled
or disturbed
[by their opposition].
– 1 Peter 3:14
Amplified Version
Fear? If we do evil – yes!
We are to be afraid if we do evil.  See Romans 13:4.  We suffer the consequences of sin. But we are not to give-in to being fearful of the powers around us.  We need not fear the Enemy.  Don't be the dumbass lamb.  Scripture tells us,
Fear not
Do not fear, I will help you

See all references or one at a time: 2 Timothy 1:7; 1 Peter 3:14; 1 John 4:18; Matthew 10:31; Romans 8:15; Romans 13:3; Revelation 2:10; Hebrews 10:35
We have nothing to fear in our struggle against the world, the flesh, and the Devil.  Scripture assures us that "greater is He who is in you than he who is in the world."
You are from God,
little children,
and have overcome them;
because greater is He
who is in you
than he who is in the world.
– 1 John 4:4
Our Battle
In our battle against sin, our only strength is "in Him". I may think myself to be quite capable and intelligent, but when it comes to the spiritual world, I am just a dumbass lamb, totally incapable of victory against a lion.
Imagine yourself as a lamb in the scrub-brush, alone, and a hungry lion comes out from behind a boulder – right in front of you!  The lamb has no defensive abilities whatsoever.
The same is true of us as believers in our fight against sin: apart from our Shepherd, the Holy Spirit and His strength… we are incapable of victory. Our only hope is to yield to His working in our life.  Moment by moment – we must abide in the Spirit, full of His power in us.  THEN we are invincible.  But only then.
Ephesians 6:10
…be strong in the Lord and in the strength of His might.
Yes I can – I can stand strong
---
About Satan… a series on our Enemy
Yes I can – I can stand strong
---